After the German invasion of Belgium on 4 August 1914 hundreds of thousands of Belgians fled to the Netherlands to seek refuge from the acts of war. Among these was a group of 40,000 Belgian military. Approximately 7,000 of these men escaped internment by disguising themselves as civilians. The remaining group of military was, in conformity with the international agreements made during the Second Peace Conference of The Hague in 1907, disarmed and interned for the duration of the war. At first they were accommodated at camps and barracks that were empty due to the mobilisation of Dutch military men who were guarding the borders. One group of Belgians was accommodated in the barracks of Alkmaar where at the same time a group of German military had already been accommodated. This was of course asking for trouble. A solution was offered by quickly erecting an internment camp (or internment depot as it was called in those days) in Gaasterland in the south west of Friesland (see map below).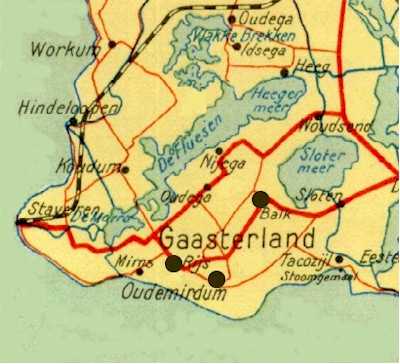 Map of the southwest corner of the province of Friesland
on which is situated Camp Gaasterland
On 26 May the Belgians that had been interned in Alkmaar were transferred to Gaasterland. They were accommodated in a hastily erected camp of tents. On 8 and 9 October another group of Belgians was transferred to Gaasterland where they were housed in the brickworks of Rijs and in the school and several sheds in the village of Sondel. In the villages Nijemirdum, Oudemirdum and Bakhuizen accommodation was found in private houses.

The compensation per soldier was Hfl 0,60 for which 400 grams of meat had to be provided. The compensation for an overnight stay was Hfl 0,10 in case the government had to provide food. On 23 and 24 October 1,600 Belgians arrived in Rijs; they were mostly from Camp Loosduinen. They were transferred by train to Heerenveen to continue their journey to Gaasterland from there. Six hundred of them went to the village of Warns.

On 27 October the final group of 300 people arrived; they were accommodated at Balk. Together with the Belgian men a lot of women and children arrived in search of their husbands and fathers. They were also given a home at Gaasterland. In the village of Bakhuizen 600 people were accommodated, the largest part private houses. Two hundred of them were accommodated in the old Catholic Church, from which the benches had been removed. The government rendered cots and supplied food through an eating-house. The parish received Hfl 0,10 a night a person.


| | |
| --- | --- |
| | |
| View of the Rijs brickworks (Camp Gaasterland) | Internment camp Rijs (Camp Gaasterland) |
The largest group of military was accommodated at Rijs. Some in private houses but the larger part, 1,200 men, in the old Rijs brickworks. The ovens and peat sheds were cleared to accommodate military refugees who had been reunited with their family.
The bachelors lived in the former drying sheds that were boarded up and converted to barracks. In 1915 two more barracks were built especially for families.
In July 1917 307 interned lived with their family. A small school, an infirmary of 24 beds and a canteen were also built. Later four barracks were added: two measuring 75 meters and two measuring 55 meters in length.
In the village of Sondel there were another 600 soldiers put in private houses. Next to these there were refugees to be found in nearly every village in Gaasterland. Among others in Harich and Balk and in Oudemirdum where 100 soldiers were housed in an old shed.
A separate barracks was built for the Belgian officers; every officer paid Hfl 10,- in rent a month. An estimated maximum of 3,000 people have lived in Camp Gaasterland; according to an official count on 1 January 1916 there were 15 officers and 2190 inferiors in Camp Gaasterland.


| | |
| --- | --- |
| | |
| View of the Rijs brickworks (Camp Gaasterland) | Internment Camp at Rijs (Camp Gaasterland) |
The accommodation and hygiene were very bad to start with. Draughty barracks that leaked like a sieve, wet straw on the floor, a lot of vermin and a shortage in clothing and underwear (a lot of soldiers just had the clothes they were wearing). Overcrowding and boredom led to alcoholism and rows. In course of time improvements were made.

To fight boredom sports festivals were organised and several contests; in soccer, swimming and Dutch tennis. On a cultural level there were music bands, a mandolin club and a drama society. A lot of Belgians bided time by being active in the home industry (among other things: manufacturing wood carving and jewellery) and objects were sold to the local population. As a means of extra earnings acorns were collected. These were sold for 2 to 3 cents per kilogram to salesmen who sold the acorns to Germany.

Schooling programmes were also started. Schools for children were established in Rijs and in the women's village Boschkant. A working school for adults was established in Rijs as well. Adults were educated and in addition they could take courses in plumbing, forging and furniture-making. After obtaining a diploma getting employment was stimulated.
Finding a job happened in consultation with the Dutch government as the Belgian interned were not to supplant the Dutch workers on the labour market. However, there was a large shortage of labourers because a large part of Dutch young workers was mobilised. This is why many Belgian soldiers were able to find a job with the forest administration or as a farmhand. They were also employed as a so-called internment group, supervised by the military. This is why over 40% of all interned in the Netherlands was employed at the end of the war.


| | |
| --- | --- |
| | |
| Catholic Chapel for interned at Oudemirdum | Canteen for interned in the brickworks at Rijs |
Women's Camp Boschkant

On the terrain near the road Rijs - Oudemirdum the women's camp Boschkant was built. It was put into use in late February 1916. The village was partly built under direct management of the own interned skilled workers and partly put out to tender. The total cost of building were Hfl 47.558,81. The village was made up of 5 barracks, each for 20 families, 4 private buildings, an electrical central bureau, a bath house with 6 showers and a bath all with hot water, a sewing school, a site office, a shop, a house for the head of the sewing school, a school with four classrooms and two three bedroom apartments.

On the terrain were also some houses placed of the Quacker Society of Friends and a building for the staff. The ill were nursed in the Belgian hospital which was made up of two combined houses built in the Rijsterbosch (the forest of Rijs). Supervision and administration were free of charge and in the hands of Major Höfer, the then commander of Camp Gaasterland. Mrs.Höfer - born baroness 'van Heemstra' - had taken on managing the sewing school.


| | |
| --- | --- |
| | |
| Women's village Boschkant | Women's village Boschkant |
Security of Camp Gaasterland was in the hands of troops of the second and third company of the first Battalion Landweer (a total of 450 men) under the command of colonel E. A. Tedema van Berkhout, esquire. They were originally accommodated in private houses, but were given their own quarters later. By opening the bridges of Sloten, Woudsend, Galamadammen, Warns and Lemmer (Tacozijl) a sort of island was created which made escaping difficult. The bridges were under permanent surveillance.

Camp Gaasterland was hard to guard due to its large size and this is why a lot of Belgians were able to escape in the beginning. The surveillance regime was tightened and in 1915 new rules were taken into use. From then on there was a curfew and the soldiers were forbidden to rent any vehicles (ice skates were considered vehicles as well). In spite of this there were still many attempted escapes.
In September 1916 the question was raised if closing down Camp Gaasterland would not be economising. It turned out it would save money and it was decided on 13 November that the camp was to be kept as a reserve depot. Only one internment group remained. On 6 and 12 December 1916 906 interned left for Camp Harderwijk and 642 for Camp Amersfoort-Zeist. The guards were then reduced to 261 men.
Literature:
Interneringsdepot Gaasterland - Belgische vluchtelingen 1914-1918
Authors: H. Doeleman, H. Dijkstra en J. Oosterhof
(Publicated by MAR EN KLIP - De Brink 4 - 8567 ZN Oudemirdum - The Netherlands)
J. Kooiman - De Nederlandse strijdmacht en hare mobilisatie 1914
Verslag van de werkzaamheden der Centrale Commissie tot behartiging der naar Nederland
uitgeweken vluchtelingen