Nine British servicemen lie buried at Groningen

The English Camp in Groningen 1914 -1918 (part 12)

This is the twelfth article of a series of 13 on the history of the English Camp in Groningen where 1,500 British servicemen were interned during the Great War 1914 – 1918.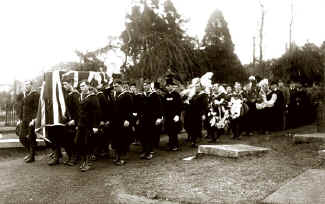 Funeral of one of the British internees at the Southern Cemetery in Groningen. Behind the pallbearers we can see commodore Wilfred Henderson accompanied by the Dutch commander of the English Camp, Lt Col J.P.A. Termaat (in a dark uniform).
In the Zuiderbegraafplaats [Southern Cemetery] along the Hereweg in Groningen are nine graves in which British servicemen are buried who died during their stay in the English Camp in Groningen. The complex of graves can be found in Class 4, row 37, graves 74 – 82. It is at the end of the central row on the right. The graves are tended by the Commonwealth War Graves Commission.

It is customary for British soldiers to be buried in the country where they fell. After the First World War, Belgium and France leased plots of land to the United Kingdom for perpetuity. British soldiers are therefore buried in British soil. In Holland, war graves are regarded as state graves belonging to the Kingdom of the Netherlands. From this date, in 1951, the ground belonging to any war grave in Holland was leased to the British government. On 10 July 2001, this agreement was extended by 50 years.

The complex of graves in the Zuiderbegraafplaats consists of nine tombstones out of a greyish stone, in a common grave field. The stone Celtic Cross was erected in memory of Seaman John MacLeay. The tombstones give the names of Albert T. Vigar (aged 33), Leslie E. Whitehead (aged 22) Donald McLeod (aged 25), John Smith (aged 42), John MacLeay (aged 33), Thomas Bennett (aged 42), Percy H. Hedger (aged 22), Ernest Bruce (aged 24) and Sydney F. Fowler (aged 35). The first eight names belong to men of the First Royal Naval Brigade who were interned in n in Groningen. The ninth grave, belonging to Sidney F. Fowler, a repatriated PoW out of German who was nursed after the war in the English Camp, to die there a few weeks later.

The funerals made a deep impression in Groningen. The deceased were buried with full military honours. At first, there was a commemorative service in the Martinikerk [St Martin's Church] upon which the procession would go via Oosterstraat, Zuiderpark and Hereweg to the Zuiderbegraafplaats. The route was lined with thousands of interested Groningers. The entire Hereweg was lined with British soldiers who gave the last honours to their comrades, died so far from home, bearing rifles borrowed from Dutch servicemen.

Having visited the Zuiderbegraafplaats, if you turn right after the exit via the Hereweg you will come to the Nattebrug. The water under this bridge is the Helperdiepje, which used to be the southern boundary to the English Camp. There is a footpath, called Helperlinie, along the Helperdiepje. After about 100 yards, you will be traversing the original area of the English Camp. You will cross a road called 'Engelse Kamp'. In the period 1969 – 1981, high-rise office blocks were constructed in this area, on the original sports arena. The canal to the left, behind the wall of the Van Mesdag Clinic, was dug in the 1960s and is therefore not a part of the former camp. This street, Engelse Kamp, is the boundary between the sports arena (to the right) and the huts (to the left) of the English Camp. When turning left, you will see a small monument on the intersection with the Kempkensberg. This was placed there by the Free Masons of Groningen. On the plaque is written that on 22nd May 1915 the English Freemasonry Lodge 'Gastvrijheid' (Hospitality) was established there.

Apart from the nine graves in the Zuiderbegraafplaats, the road sign and this simple monument are the only thing to commemorate the 1.500 British servicemen who had to spend four years of their lives in the English Camp during the First World War.

Next: The English Camp after the Great War 1919 -1958 (part 13)


to English Camp page
---