The escape by John Henry Bentham (1)

The English Camp in Groningen 1914 -1918 (part 10)

These is the tenth article out of a series of 13 on the history of the English Camp in Groningen, Holland, where 1,500 British servicemen were interned during the Great War.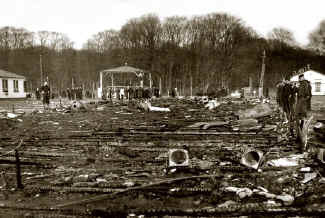 On 2 April 1916 the large recreational hall burned out, probably due to an electrical fault. The picture shows the devastation immediately after the fire. In the middle of the picture the music dome on Camp grounds, and in the background the Sterrebos Woods.
John Henry Bentham, who we met in previous articles, has kept a diary about his experiences as internee in the English Camp. As he was not intending to stay locked in there for what could be a period of years, he decided to mount an escape attempt together with a friend. This is his gripping story.
Bentham met a Dutch girl. At her insistence, her father asked the camp commander if Bentham could stay at his house for three hours every day. This permission was granted, with the girl's father as guarantor for Bentham's return. It was not long before Bentham converted to the Dutch Reformed Church, which would enable him to go to church and sit next to his girlfriend. Churchgoers were always accompanied by guards, who would wait outside.

During 1914, about twenty men had succeeded in escaping to England. John decided to mount an escape with his good friend Alex. One of the conditions was that one of them had to speak Dutch well. John Bentham had picked up quite a few words of Dutch. He started to visit the guards' room to talk to the Dutch guards. In order to obtain civilian clothing, they ordered costumes over from England in parts (e.g. a sleeve or a collar). Larger packets, which could hold a complete costume, were checked by Dutch authorities, and were liable to be confiscated. In due course, all parts had arrived, and they were assembled secretly by the camp tailor. The completed costumes were hidden in their straw mattresses.
Money was the next problem. They were given a wage of one guilder every 10 days. The difference between their own British salary and this one guilder was deposited in an account with the British Admiralty. Bentham wrote a letter to his bank in England, who kindly ordered their agent in The Hague to send the saved money to Groningen.

On a Sunday, they carefully dressed, wearing civilian clothes underneath their navy uniform. When the group of churchgoers left the camp, they ran towards the exit and asked the guards if they could still go with them. This was allowed, but once out of the gate, they dashed into the Sterrebos woods. They took off their uniform, which they hid in the bushes. They put on collar and tie, put on a civilian cap and even picked some flowers, which they put in a buttonhole. They intended to walk from Groningen to Assen (about 15 miles to the south), as the station in Groningen was guarded. From Assen, they were to take a train to Rotterdam. They encountered a mounted military policeman who turned round in his saddle and looked at them intensely. He did not take any action.

By the end of the afternoon, they arrived in Assen, hungry and tired, to look for a bed for the night. They found a secluded hotel where Bentham asked, in his best Dutch, to have a room and something to eat. In the billiard room, he saw four police officers, which did not help them to relax. The proprietor took the men to their room, asked them if they required anything to eat, and then left them alone. They were so nervous that they thought that the hotelier was talking about Groningen. Nonetheless, they had a wash and after a while, the proprietor took them downstairs where he had prepared a table with veal, fried potatoes and beer. After that, he went outside and they heard the door being locked. So the game was up! All their trouble and efforts for nothing! Alex felt the tears rising to his eyes. They were too hungry not to eat everything on the table.

Next: The escape by John Henry Bentham (continued)


to English Camp page
---