British football at high level

The English Camp in Groningen 1914 -1918 (part 7)

This is the seventh part of a series of articles on the history of the English Camp at Groningen, Holland, where 1,500 British servicemen were interned during the Great War of 1914 – 1918.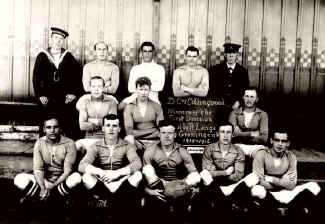 The Champion Team, the Collingwood Eleven in the English Camp league 1915/1916. Central in the back row, in the white jumper, stands Arnold Birch, later to be goalkeeper for Sheffield Wednesday.
The English Camp saw plenty of time for relaxation, and as the British loved sports, many sporting clubs were established. The main ones were the Athletic Club, the Association Football Club, the Tennis Club, the Rugby Club and the Cricket Club. British athletes also joined Groninger clubs. Sporting competitions regularly took place on the sports arena of the English Camp, with local people attending in large numbers. The British also took place in competitions on a national level. A random example from the Camp Magazine: in Uithuizen sprint athlete H. Pritchard won the 100 metres sprint on 11th July 1917 in 11,2 seconds, an event which he also won three days before in Rotterdam. In 1915, the famous Groninger sprinter Huizinga ran against British athletes, who had already built themselves a reputation. Only just from behind the butcher's van, he led the well-attended Pentecost run over two miles, as well as the 8 miles' event with a large lead.

Football was by far the most popular sport in the Camp. The three battalions very quickly formed their own football teams: Collingwood, Hawke and Benbow. Groninger team Forward helped the British by allowing them to train on their adjacent pitch. As early as 1st November 1914, Forward played a 'charitable' match against the British. Forward's team was reinforced with three players from another team, as many Forward players had been called up in the mobilisation. There were an extra-ordinary 3,000 spectators and box office takings of 240 guilders. The British team played well, and won generously by 7 goals to 2.

Talks were also held with another team, Be Quick, about 'friendly games', which were played quite frequently. Be Quick invited the British to attend their home games, as a diversion. Initially, problems arose regarding the security of the internees, but later on more than 1,000 British would join the spectators at the games. Dutch officers, involved in guard duties, would also be invited.

The Royal Naval Brigade Football Club Association was established late in 1914. The British were not allowed to participate in the regular Dutch leagues. They organised their own league on the Camp pitch. They were allowed to participate in the local cup competitions. The strong Brigade team took part in tournaments and friendly games. On 3rd November 1916, it even played Ajax Amsterdam. It was a very hard game, which ended in a 1-1 draw. The high level of some of the players is demonstrated in Arnold Birch, who was the goalkeeper of the Brigade 11. Immediately after the war, he became a professional keeper with Sheffield Wednesday. New materials were hard to come by for the footballers in he Camp. Sixty pairs of football boots were sent to the Association Football Club in September 1917 from the English manufacturer Manfield & Co. Both football and rugby club were very happy to receive these.

The Camp football teams left a very good impression. Their influence helped to bring football locally on a higher level. It also enabled Be Quick to become national champions in 1920. Trainer/coach Harry Waites was interned at the English Camp during World War 1, and was later taken back from England to make Be Quick champions. He also made Feyenoord national champions in 1924.

Information supplied by Gerard Helsma, football historian from Groningen. He is the author of the book Football in Timbertown.

Next:
Internees taken prisoner of war during compassionate leave


to English Camp
---