The First Brigade is forgotten in the evacuation of Antwerp
The English Camp at Groningen, 1914 – 1918 (part 2)

This series of articles recount the history of the English Camp in Groningen, Holland, where 1,500 British service personnel were interned during World War One. This second part is the continuation of part 1: how did the British end up in Groningen.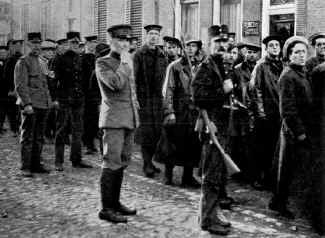 First Royal Naval Brigade arrives in Holland. They have just been
disarmed, and are under guard by Dutch servicemen.
The situation at the front becomes grave. Heavy grenades are incessantly fired across the lines. No direct hits are reported, and the number of British casualties is only slight. Reports come through that the German army has breached Belgian lines to the south of Antwerp.

The entire Belgian army risks being enclosed in Antwerp. It is decided that the Belgian army and the British Brigades will withdraw across the River Scheldt at dusk. The Britons will be taken to Gent by rail. The only rail line still open is the railway that runs parallel to the Dutch border.

At 7 pm, the three British brigades are ordered to withdraw across the Scheldt via the pontoon bridge at Burgh. They will march to St. Niklaas where the promised trains will be ready. The troops are delayed on the way by literally hundreds of thousands of Belgian civilians who are fleeing to Holland in blind panic. Skirmishes with German forces take place on the way. The men are completely exhausted. Since their departure from the UK, they have had hardly any rest. Without hardly any food or drink, they have marched more than 22 miles. When the men finally struggle into the station, five trains are ready. Nobody has any idea what is going on, and when all appear to be present, the signal is given for departure. Only half way into the journey will it become clear that 1,500 men of the 1st Brigade are not on board: the men from the Battalions Hawke, Benbow and Collingwood.

Because of a series of misunderstandings, CO Commander Henderson 1st Royal Naval Brigade, has not received the order to depart immediately, at 7pm. Consequently, these three battalions do not march off until 10 pm. They are at that point in the frontline. Past blazing oil tanks and continual bombardment, the men find their way to the River Scheldt, where the pontoon bridge at Burght has meanwhile been blown up. They are ferried across the river in little boats, without sustaining casualties. On arrival in St Niklaas, early in the morning of October 9th, commodore Henderson is told that transport and re-supply for his battalions will be available in St Gillis-Waas, further to the west.

Once more, the exhausted men put themselves in motion. The last do not arrive until 4pm. Some arrive walking on their socks, because they could not put their boots on after breaks. Their feet had swollen badly after taking the boots off. Again, no transport or re-supply can be found.

At that point, reports come through that the railway has been blown up, and the Germans are advancing north. Henderson concludes that the retreat to Gent has been completely cut off, and that the combat readiness of his men has been reduced to an absolute minimum. Henderson decides to cross the Dutch border. He prefers internment in the Netherlands to the disgrace of a stay in a German PoW camp.
The British forces cross into Holland into the southwestern enclave of Zeeuws Vlaanderen. They are disarmed and advised that they will be interned in a camp under armed guard, in accordance with international law, for the duration of the conflict. As a result, they cannot return to their home country to resume active participation in the armed conflict. They are not the only ones – more than 30,000 Belgian troops are interned in the Netherlands between 1914 and 1918.

The Britons spend their first night in Holland in the side of the road. The next day they are taken by train to Terneuzen and by boat to Flushing. One group of 400 men is taken to Leeuwarden. The other 1,100 are taken to Groningen where they are billeted temporarily in the Rabenhaupt Barracks. This is empty because the resident 12th Regiment Infantry has been mobilised elsewhere in the country.

Next: Large groups of Groningers stare at us through the fences


to English Cam page
---