INTRODUCTION
On reading Donald MacDonald's book on the history of Lewis, I encountered a reference to the internment of Lewis men in Groningen, and I decided to conduct a little research into the subject.

In 2002, a Dutch amateur historian, Menno Wielinga, published a series of 13 articles on this subject in a regional newspaper in The Netherlands, which serve as the backbone to my story. I have translated the articles and they are published in English on the website
www.wereldoorlog1418.nl

I would like to express my gratitude to those who went to the trouble of contacting me, by letter, telephone or email, following my initial appeal in the Gazette on 27th January 2005. I also would like to thank the staff in Stornoway Library for their enthusiastic cooperation.

I should point out that all (Lewis) inmates of the camp are now deceased.

A number of questions remain:
• Are there other men from Lewis (or any other island in the Western Isles) known to have been interned at Groningen?
• Are there any records, oral, written, photographic etcetera of their experiences in the camp?
• Did any of them try to escape?
• Were any men employed outside the camp, and if so: where and as what?

I have found the names of 106 inmates from the Isle of Lewis. See:
List of internees from Lewis in the English Camp in Groningen 1914 - 1918

Guido Blokland
Stornoway
February 2007

ROYAL NAVAL BRIGADE 1914
During the First World War, 1,500 British servicemen were interned in a camp in the city of Groningen in Holland between October 1914 and the Armistice in November 1918. This group belonged to the First Royal Naval Brigade. Many of its men were from the Western Isles, as many had joined the Royal Naval Reserve (RNR) before the outbreak of hostilities in August 1914.

[15] The Naval Brigade, sent to Antwerp in a last effort to save the city, consisted of men handy enough to build their own defences and brave enough to defend them against any odds. Above are naval ratings who had taken their part in building the timber-lined trenches [...]. The men are carrying cartridge belts for Maxim guns, their principal weapon. This line was held by the Naval Brigade until October 6th [1914], when they were forced to fall back on the inner fortification.
[15] The Naval Brigade, sent to Antwerp in a last effort to save the city, consisted of men handy enough to build their own defences and brave enough to defend them against any odds. Above are naval ratings who had taken their part in building the timber-lined trenches [...]. The men are carrying cartridge belts for Maxim guns, their principal weapon. This line was held by the Naval Brigade until October 6th [1914], when they were forced to fall back on the inner fortification.

[2] The Naval Brigade

Memories of John and Roderick MacKenzie, 13 Grimshader
Submitted by Capt. J.R. MacKenzie (macRuairidh Iain Rob) of 13 Grimshader, now of Inverness.

This was a brigade of naval reservists formed when there was a surplus of naval personnel. They were mostly fishermen and unfortunately given the minimum of military training. It was the brainchild of Winston Churchill who at the time was First Lord of the Admiralty.

They were sent to Antwerp just before that city fell to the Germans at the beginning of October 1914. They went into shallow trenches hurriedly dug and were under heavy artillery bombardment until October 9th, when the Germans overran them. After a time of disorganisation and confusion they managed to cross the border into Holland. Holland was neutral in that war. They were subsequently rounded up by the Dutch authorities and interned in a place called Groningen for the duration of the war.
My father, like most of his contemporaries, seldom spoke about his wartime experiences, but my brother and I put some pressure on him one evening to tell us about some of the things that happened. He said that one of the most vivid recollections was having crossed a bridge, leaving Antwerp, they heard an explosion behind them and on turning around they saw the bridge which they had crossed minutes before going up in the air with nothing left intact.

While wandering around the Dutch countryside they suffered much from hunger. One evening while walking across a field they came across a lone cow which was duly shot and served as their first food in days (later on they were asked to compensate the owner of the cow).

While at Antwerp, they became the Royal Naval Division of the Naval Brigade. There were many Lewis lads in the Naval Brigade - Iain Mhurchaidh, of 11 Grimshader; Murchadh Chalum Sheoc from Ranish; Shonnie Mhallaig from Leurbost and many others whose names I cannot now remember.

They were posted missing for a few monhs before word got home that they were interned in Holland. The story goes that "A Bhell", Ian Mhurchaidh's mother, was working on a "feannaig" (lazybed) on the croft at the time when someone overheard her repeating over and over again "interned in Holland, interned in Holland" a reaction no doubt to the joy that her son was safe although a prisoner.

They had their share of hardships, but things began to ease for them when they started to receive parcels from home and from the Red Cross.

Some of the brigade were able to escape from Antwerp and make their way home, one of them being my father's cousin Allan Aonghais Rob (Allan Sketch).
The whole exercise was almost a disaster as they were ill prepared to be sent against professional German soldiers. My father was fortunate in that he had done six months training in the Militia ("as a bhalishe"). It was then every young lad's dream to get into the Militia. It was usually their first employment and the first money they earned. Many lied about their age in order to be accepted. My father spoke about sharing his knowledge gained in the Militia with some of his mates while travelling by tram and boat to Antwerp. It gives an indication of how ill-equipped they were. Indeed they were in possession of rifles for only two weeks before they were shipped out. Some of the lads had had as little as two days' training with rifles.

It was an ill-thought out concept from the beginning, for which Churchill was rightly blamed. My father's generation had little time for him and were delighted when Attlee's government pushed him out in 1945. Though meagre and belated, the intervention of the Royal Naval Division at Antwerp had nevertheless helped to delay the fall of Antwerp for some days, gaining time for other units of the British Army to arrive in Flanders.

Their losses were relatively few, 57 killed and 138 wounded.

CONTRIBUTION BY MEN FROM LEWIS
[4] Historically, the islands contributed proportionally the largest number of men, larger than any part of Scotland. Scotland itself is grossly over-represented when compared to other parts of the UK. It was no different during the First World War. Out of a total population of 30,000 in the Isle of Lewis, more than 6,000 men had voluntarily joined up. 1,000 of those never returned. This contribution has not met with the recognition it deserved, certainly not in the immediate aftermath of the war. Hundreds of men returned to Lewis, expecting the government to fulfil its promise of land. A promise that was not met, ultimately leading to civil unrest and emigration.

[16] The proportion of Royal Naval Reservists within the Lewis contingent is, on average 52%. On average 1 out of every 7 men in the island joined up, irrespective of unit; the district of Uig contributed 1 out of every 3 men, 30%. The percentages in the last column below refer to total population, men as well as women; the percentages quoted in the lines above refer exclusively to males.

Parish
Number
in RNR
% service-
men in RNR
Total in
services
population
in RNR (%)
Total population
in 1911
Stornoway
970
50%
1,948
7.2%
13,414
Barvas
560
53%
1,061
6.2%
9,063
Uig
349
53%
665
15.0%
2,326
Lochs
388
60%
646
8.3%
4,684
Totaal
2,267

52%
4,320
7.7%
29,487
There is great bitterness about the lack of recognition. King George sent a telegram to a Balallan woman, congratulating her on giving her 4 sons to fight for her country. The King sent no telegram when they were all killed. If it had not been for the kindness of the neighbours in the village, she would have starved, being blind.

STORIES FROM INTERNEES
[1] Chrissie MacRitchie told me that her grandfather, Angus MacLean of Shader, had been in the camp. In 1915, he was allowed home on 'harvest leave'. This was facilitated by a doctor's letter, which would state that the man in question was needed at home. What reasons the doctor's gave did not become clear. Her aunt, who was 16 at the time, remembers that she had to go to see the doctor about the letter. Later on, she was sitting on top of a cart and could see her dad coming up the road from town; this happened twice. The lady's uncle, who was also interned, spoke of starvation in the camp, with inmates having to eat rats

[2] John MacDonald advised me that seven or eight Uig men were at Groningen, and another 6 or 7 from Bernera. After the war, one man (Donald MacLeod) went out to California or Canada. A reunion of Lewis inmates of Groningen was held at the Caledonian Hotel in Stornoway in October 1959. The gentleman's father attended that meeting, with three others. Angus MacDonald, deceased 1970, formerly of 3 Geshader was allowed home on leave in 1916. If anyone failed to come back to Holland, the entire leave arrangement would be cancelled. None did desert. The inmates had to eat horsemeat in the camp. They were allowed to mingle with locals. John Morrison studied for the ministry in the camp. Some went back to Groningen in 1959. There was no resentment towards the Dutch. None of the camp inmates were thought to have perished on the Iolaire, which foundered on the Beasts of Holm on New Year's Day 1919 with the loss of 205 lives.

[3] Mrs MacIver told me that her father, John MacIver, studied navigation in the camp, and acquired a British diploma for (I think) a second mate's ticket. I was shown a copy of this document.

[12] These men all came from Great Bernera and are pictured in the camp
Standing L-R Kenneth Macaulay "Coinneach Ruadh" 12 then 1 Kirkibost, Donald Macdonald "Domhnall Sheumais" 5 Croir, Norman Maclennan "Tormod a Ghaidheal" 5 Kirkibost,
Angus Maciver "Aonghas Fhionnllaigh" 7 Breaclete.
Seated L-R Norman Macdonald "Nabard" 15 Hacklete, John Macdonald "Iain Aonghais Fhearchair" 13 Breaclete and Angus Macdonald "Krudcher" 13 Tobson"
[information courtesy www.hebrideanconnections.com].
[4] Donald MacLeod gave the names of the 7 Bernera naval reservists in the photograph. Not in order, the names given were of the Bernera internees, i.e.: Angus MacIver, 7 Breaclete; Kenneth MacAulay, 12 Kirkibost; Angus MacInnes 20 Kirkibost - his brother, Donald, was a prisoner in Germany having been captured after the fall of Antwerp; Angus MacDonald, 13 Tobson; John MacDonald, 24a Tobson; Donald MacDonald, 16 Tobson and Norman MacDonald, 15 Hacklete. Donald said that his grandmother was a MacDonald from Tobson and all these MacDonalds from Tobson would have been related to her.

[5] Margaret MacPhail told me: I happen to have a jewellery box made in Groningen prison camp by a cousin of my mother, Angus Maciver of 7 Breaclete, Bernera who was one of the Bernera men in your photograph (standing far right) It is inscribed RND Groningen Holland. He later became a headmaster in Scarp and Leverburgh Harris. The box was made for Miss M.A. Macdonald ( Mary Ann) who was a relative of Angus Maciver. She was originally from Bernera but taught at Achmore school until she retired. I have had it in my possession since 50 years now this week it has become more important to me! I was told that another man from Bernera was in the camp John Macdonald, 13 Breaclete, Bernera, not in photograph, do not have any info of him yet.

[4] Murdo MacKay (RNR) of 13 Aignish escaped from the siege of Antwerp, and walked to France out of Holland. A Dutch farmer gave him civilian clothes. He died in March 1917 of illness at Plymouth.

Some islanders were released from Groningen because of illness, to die at home. One of these was Angus MacLeod, 10 Portnaguran, who died at home on 24 June 1916. Three of his brothers died in the war, one of them on the Iolaire.

Several internees died at Groningen, among them:
John Smith, 6 Lower Bayble, died on 18th October 1917 at the age of 39.
John MacLeay, 28 Lower Shader, died on 26th August 1915, at the age of 33.
Donald MacLeod, 4 Gearrannan, died in Groningen in 1916, at the age of 24.

[6] Dave Roberts told me:
I have spoken to relatives of four of the internees. They have provided very little information. They all said that their relatives were very reluctant to talk about it. They are all of the opinion that the internees felt that they had surrendered and had therefore not done their duty. They probably felt guilty that their brothers, cousins and friends fought and many died, while they were safe in Holland. They felt ashamed and thought that other people saw them as having avoided the war. Someone mentioned that one of the internees was accused of having slept for four years in Holland - this was a joke, but it must have also hit a raw nerve! One of the relatives mentioned that some of the internees worked on farms and a group of them had caught a sheep and killed it. They were so hungry that they ate it raw, on the spot where they killed it. Only one relative heard of leave being taken. In the community the sympathy was for the POWs who had a much harder time of it.

Kenneth Nicolson had 7 brothers and 4 sisters. He talked very little about his experiences and his niece never heard him talk of or knew of any leave he may have had. Four of his brothers served in the armed forces during the first war. Donald was in the army and died in France. Murdo was in the navy and drowned in the Iolaire disaster. Kenneth never married. He lived on, and worked the croft until he was 85, and too infirm to manage on his own. He died in Timsgarry a few days short of his 88th birthday.

[7] Callum Buchanan, Malcolm Buchanan's son, said:
My father Malcolm died in 1944, our neighbour Murdo Buchanan died some time in the 1980s. They did not really speak much of what they went through

[4] Allan MacKenzie, 13B Grimshader escaped from Groningen and returned to the UK. Ebenezer MacDonald, 41B Ranish could have been decorated in the 1920s by the Americans for saving lives on an American ship.

[8]From left to right: Roderick MacKenzie (13 Grimshader) - Collage showing John MacKenzie, made in the Camp) - Ebenezer MacDonald (41 Ranish). The inscription on the medal reads: To Ebenezer MacDonald for gallant service 4.11.24 Liverpool Shipwreck and Humane Society 1839. Ebenezer MacDonald was from 41 Ranish. He served in the Royal Navy during Word War 1 and then in the Merchant Navy.

[4] Liverpool Shipwreck & Humane Society --- Bronze Medal and Certificate of Thanks to Able Seaman Ebenezer MacDonald, of the Royal Mail SS Co's, s.s. "Cardiganshire", for rescuing the crew of seven men of the schooner "Inspiration" of St John's, N.F., which vessel was abandoned, dismasted and in a sinking condition, in heavy weather in the North Atlantic on 4th November,1924.

At 7.30am of the above date a vessel was observed flying signals of distress. The "Cardiganshire" bore down on her and found her to be the schooner "Inspiration" of St John's N.F., bound from Pernambuco to St John's in ballast, dismasted, with rudder and rudder post gone and in a sinking condition. The weather was rough and squally, with a high sea running.
The Chief Officer was sent away in charge of the lifeboat and brought back the crew of seven men, who were later landed at Liverpool. The lifeboat was holed and severely damaged in the process, arriving back at the ship half full of water."

It is believed that three other crew membes of the " Cardiganshire" who were decorated were also from the Western Isles : Able Seaman John MacDonald; Able Seaman John MacLeod and Able Seaman John Martin.
[8] Mr MacKenzie (son of Roderick Mackenzie) writes:
"My great regret nowadays is that I did not question (my father) more about his experiences. He couldn't stand any waste of food, even crumbs, which we attributed to him having suffered from hunger during the war. He had a great deal of respect for the Dutch people. He also had a great deal of interest in cricket, which was unusual for island men. So he must have learned his cricket while in Holland."

[9] An article in the Stornoway Gazette of 25th January 1918, by Rev DM Lamont, paints a picture: "They are all young men … who meant to fight for their country …". They are in effect prisoners, surrounded by armed guards. The austere walls of Groningen prison overlook the camp. The food is poor and inadequate in quantity. At the time of writing, the 'home leave' arrangements had been in place for two years, and escapes were no longer necessary. As indicated above, the 'compassionate leave' was sometimes based on rather loose ground.
Rev Lamont describes two escape attempts: one by a sailor, who was carried out of camp, wrapped in a piece of matting. He made his way to Flushing, and on to the UK. Another person escaped, walked 20 miles to the German border and reported to the Burgomaster of the frontier town, declaring that he'd just escaped from a German PoW camp, and could he please have a pass for Flushing! Which was duly granted.

Rev Lamont expresses the implicit opinion that lads who had grown up "among seabirds under Atlantic breakers" would not feel at home in Holland, "hollow land" with no hills to climb "above the level of stagnant canals".

[10] In an interview in November 2005, Margaret Joan MacLeod said:
"My grandfather, Peter MacLeod of 27 Lower Barvas, was in the camp. He was allowed home on harvest leave twice, one such visit resulting in the birth of my uncle, Donald Finlay, 9 months later. He taught others to read and write Gaelic in the camp. Donald Murray, of 47 Lower Barvas, taught navigation to other inmates. Norman MacDonald, of 25 Upper Shader, would write home saying that the 'acras' [Gaelic for hunger] was very bad. Angus MacLeod, of 22 Upper Barvas, was depressed in later years because he felt that his mother had been paid money for him doing nothing in the camp. Quite a few of the internees are quoted as having the "1914 Star" or the "1914 Mons Star".

That ends the net result of the interview. This may seem incredibly succinct, but mrs MacLeod spent the better part of 3 hours ringing round the villages of Barvas, Brue and Shader to trace anyone whose ancestors had told stories of the camp. There were a few, but they were too old or infirm for me to speak to them. It is very unfortunate in a way, that I am conducting this research now, in 2005. None of the internees at Groningen survive, and it appears that they have taken the stories of their internment to the grave. Their direct descendants are themselves now very aged as well. The abiding image, in summary, is one of excruciating boredom and worsening hunger. Several inmates tried to better their lives through study.

[4] Some of the returned men of the RND who had been interned in Holland since Antwerp fell in October 1914 (Source: The War Illustrated, 30 November 1918)
[11] It was with great interest that I read your article on the Lewismen interned in the camp at Groningen between October 1914 and the armistice in November 1918. What caught my attention even more was seeing my Grandfather's name mentioned within. My name is Iain Macdonald and my maternal Grandfather was John MacIver of North Tolsta on the island of Lewis. I see from your article that you spoke to one of my aunts regarding this subject.

The reason I am contacting you is to forward a photograph [below] which was taken in the camp on Christmas day 1915. This photograph shows my Grandfather 2nd from the right. There are three other Tolsta men in the picture. They are the Macdonald brothers William (back row far left) and Angus (back row second right). The other man is John Macmillan (back row third left) whom I notice you don't mention in your article. This information comes from the North Tolsta Historical Society.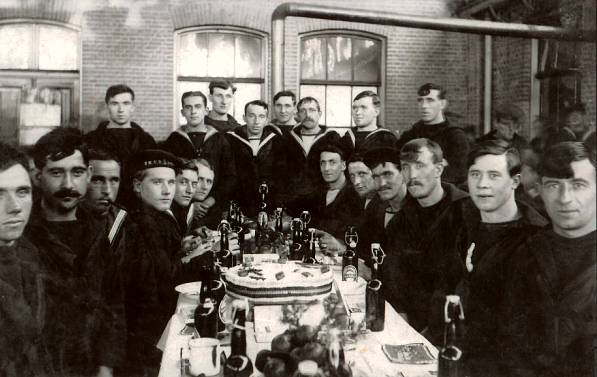 [13] The man on the far right is Angus MacLeod, of 22 Upper Barvas.
[11] My Grandpa was sent ashore in Belgium with the Royal Naval Division at the beginning of the war. I think their main purpose was to halt the German advance through that country. He was with Benbow Battalion. I can remember him telling me that he was in Antwerp and the place had been deserted. Unfortunately, the Germans proved too strong for them and they were forced to the Dutch border where they laid down their arms and crossed into Holland. He spent the duration of the war in the camp at Groningen. All I know of his time there was that he studied navigation. He mentioned to me that he had a pen pal with whom he corresponded in London. This gentleman would send my Grandpa tobacco and other things to ease his situation although I think they were fairly well looked after by the Dutch.

There is a photograph on the Tolsta Historical site of Lewismen at Groningen. I have downloaded it and attached that also. The men in this photograph are; Back row left to right, Angus Macdonald and John Macritchie. Front row left to right are; John Macmillan, Alasdair MacIver, Angus MacKay, William Macdonald, Angus Morrison and John MacIver.
I hope this is of interest to you although you may have acquired this material from another source. I thought it better to send it to you to make sure you had it. My Grandfather died in 1981 at the age of 88.

[14] The Internees duly returned to Lewis after the Armistice. Calum Ferguson describes the life of his mother in the Point (or Rubha) district of Lewis, east of Stornoway. On pages 164 and 165, the author tells how his mother, a teenage girl at the time, has taken a cart to town to purchase household goods. It's nearly Christmas, 1918.

"In Percival Square, we saw a group of about a dozen men who had just returned from internment in Holland and from German POW camps, celebrating noisily with 'clann-nighean an sgadain' (herring girls). They were doing a 'danns an rathaid' [street dance] with melodeon music."

Sources
[1] Chrissie MacRitchie, Glasgow, telephone interview
[2] John MacDonald, Uig, personal communication
[3] Mrs Morrison, Tolsta, personal communication
[4] Donald J MacLeod, Aberdeen, personal communication
[5] Margaret MacPhail, Laxdale, Stornoway, email communication
[6] Dave Roberts, Uig Historical Society, email communication
[7] Callum Buchanan, Brenish, personal communication
[8] Dusgadh 40, North Lochs Historical Society, December 2005
[9] Stornoway Gazette, 25 January 1918
[10] Margaret Joan MacLeod, Barvas, personal communication
[11] Iain MacDonald, personal communication
[12] Hebridean Connections, Ravenspoint Centre, Kershader
[13] Donald Morrison, Barvas, personal communication
[14] Children of the Blackhouse, Calum Ferguson, Birlinn 2004, pp 164, 165
[15] Malcolm MacDonald, Secretary, Stornoway Historical Society, Personal communication
[16] Loyal Lewis, Roll of Honour 1914-18, Stornoway Library




to English Camp page